Art: to the extreme
South Tyrolean artist Peter Senoner artworks created in the terraXcube under extreme climatic conditions evoke altered habitats and resource scarcity. Three of these pieces are now returning to the terraXcube – permanently.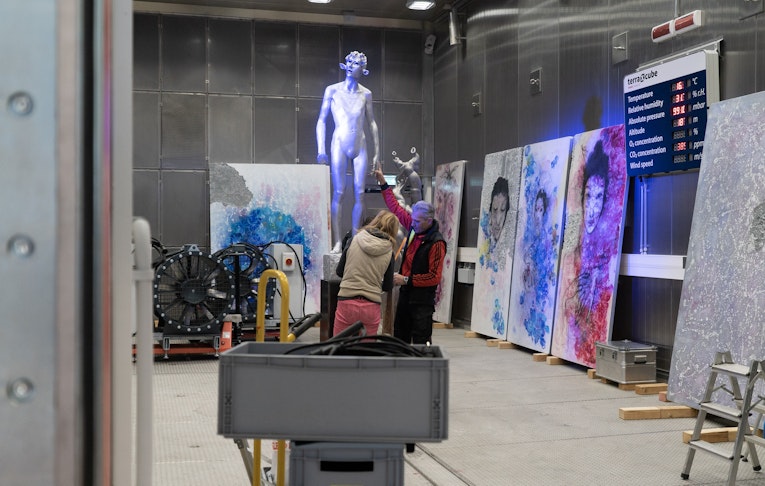 © Eurac Research | Annelie Bortolotti
Peter Senoner is known for his futuristic sculptures at the interface of man and machine. The sculptor from Chiusa/Klausen recently entered completely new territory with his ARTARCTIC project in which he created 25 pieces in the terraXcube.  "I have added the theme of science to man and technology," he explains. Twice, in 2021 and 2022, Peter Senoner moved his studio to the terraXcube and created unique works of art in the extreme climate simulator under the harshest of conditions: freezing cold, wind and driving snow and at a simulated altitude of up to 5364 meters above sea level, the same height as the Mount Everest base camp. His art not only tells of extreme habitats and scarcity of resources – they are also a reflection of them. Creating art in the terraXcube demanded a great deal from Peter Senoner physically. During the performance, his vital signs were constantly monitored. "The rougher and more difficult it got," the artist recalls, "the stronger my longing for beauty and poetry became."
ARTARCTIC's 25 large-scale tableaux have been exhibited around the world, from Palm Springs USA to Zurich and Tokyo. Next stop on the tour: Ankara and Istanbul. The exhibit will then close in 2024 at Lumen in Kronplatz. Currently, Künstlerhaus Vienna is also exhibiting some of the tableaux. The theme of the exhibition is "Systemrelevant", a topic Senoner is particularly pleased about because art at its core is not system-relevant. The response to ARTARCTIC has been huge. Both the artworks and their genesis have stimulated discussion between art, science, the public. And they have reached many – In Vienna alone, the exhibition attracted 5000 visitors in the first 5 days.
Three tableaux of the ARTARCTIC series have now returned to the terraXcube. As a triptych, they unfold their immediate power in a placement precisely coordinated with the architecture. The works were assembled personally by Peter Senoner, Christian Steurer and Alessandro Casciaro.
"They are not exhibits in the classical sense," explains the artist, "the works are meant to stimulate discussion and concrete action. The goal of my art is to reach as many people as possible with an authentic and immediate message."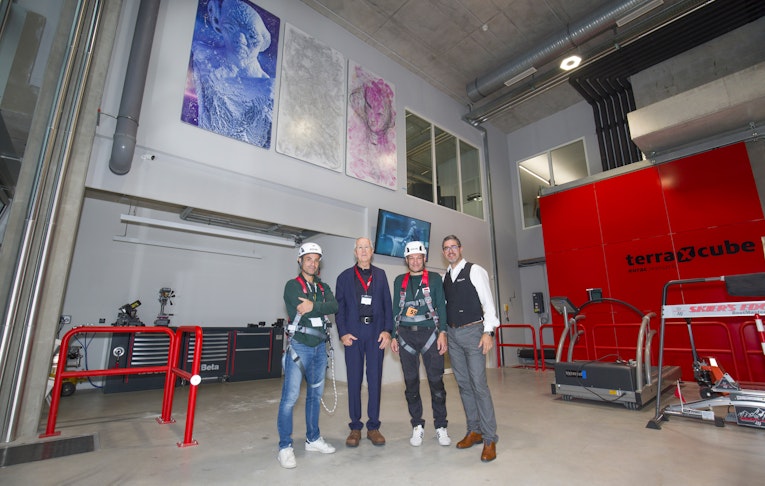 © Eurac Research | Andrea De Giovanni
Photo: Alessandro Casciaro, Roland Psenner, Peter Senoner, Christian Steurer
In order to give you a better service this site uses technical cookies. Additionally third party cookies are used for embedded content. If you decline, you will not see content from third parties (such as Youtube videos or Facebook/Twitter content). Privacy policy